Neglecting to clean your new tattoo regularly can cause all kinds of problems for your skin. Tattoo aftercare is important – take care of your tattoo and your skin art will look good for a very long time! That said, the aftercare process begins by washing and cleaning your tattoo. In this article, I'll share with you my list of the 10 best tattoo soaps you can buy right now!
The Best Tattoo Soaps for Aftercare
Choosing the best cleaning agent for your new tattoo shouldn't be hard. But alas, there are far too many options to choose from and choosing the best one on your own is a daunting task. Oh, I know, I've been in your shoes before! This is why I've decided to write this list, so you can make an informed decision quickly. After all, you already have enough on your plate with that weeping tattoo. You don't need to waste hours looking for the best tattoo-safe soap!  
Best All-Natural Tattoo Soap – Dr. Bronner's Pure Castile Unscented Baby Soap

Ingredients: Water, saponified organic coconut, organic palm and organic olive oils (w/retained glycerine), organic hemp oil, organic jojoba oil, essential oils, citric acid, vitamin E.
Who said tattoo healing and saving the environment need to be mutually exclusive? Well, certainly not Dr. Bronner. Their unscented Castile baby soap isn't just great for babies, pets, and doing household cleaning, it's also great for cleaning new tattoos!
That said, Dr. Bronner's soap may be a bit too effective at cleaning for some people. If you don't dilute it properly, you may experience dry skin. It does have essential oils listed in the ingredients which help counteract the dryness, but if not used properly, your tattoo may dry out.
What I like:
You only need a few drops for each wash
Love the multi-use aspect of this product
Uses 100% organic and all-natural ingredients
Extremely economical!
Environmentally friendly
What I don't like:
Need to dilute the product properly, otherwise, your skin may dry out

---
Best Antibacterial Soap for Tattoos – Tattoo Goo Deep Cleansing Soap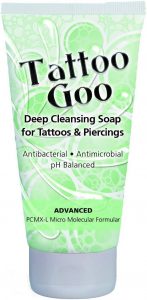 Ingredients: Chloroxylenol (PCMX) 0.1%, aqua, sodium peg-7 olive oil carboxylate, propanediol, olive oil, peg-7 esters, sodium lauryl sulfate, polyquaternium-10, cocamide mea, cocamidopropyl betaine, diazolidinyl urea, sodium benzoate, potassium sorbate, fragrance, citric acid
Tattoo Goo's deep cleansing soap works for both tattoos and piercings, so it's popular with the body modification community. It is free from alcohol, petrolatum, and lanolin, so it's an awesome choice for those with sensitive skin. Its PCMX-L micro molecular formula gives your skin a deep clean and kills bacteria in the process, too. This makes it optimal for new tattoo wounds to heal up quickly.
What I like:
Removes dead skin cells to allow tattoo to breathe
Doesn't dry out tattoo
Very effective antibacterial and antimicrobial soap for tattoos
What I don't like:
Neither unscented nor fragrance-free
Not as lathery as other soaps
Relatively more expensive than other tattoo antibacterial soaps

---
Best Hypoallergenic Soap for Tattoos – TattooMed Cleansing Gel
Ingredients: Aqua, sodium laureth sulfate, cocamidopropyl betaine, sodium chloride, coco glucoside, panthenol, glycol distearate, glycerin, laureth-4, parfum, phenoxyethanol, potassium sorbate, sodium benzoate, citric acid
TattooMed's pH balanced, cleansing gel formula is gentle enough for use on sensitive skin. It's hypoallergenic too which is great for soothing, cooling and moisturising tattooed skin. It's also quite foamy, which is always a good thing as you can thoroughly massage the tattooed area. Lastly, it's also a plus that this product is 100% vegan and not made from animal by-products.
What I like:
Hypoallergenic formula
Protects skin from drying out
Lathers really well so it's easy to spread and massage onto skin
What I don't like:
Not for people allergic to scented products

---
Best Unscented Soap for Tattoos – H2Ocean Foam Soap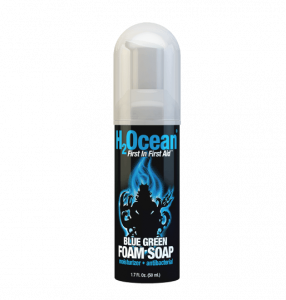 Ingredients: Benzalkonium chloride 0.13%, purified water, poloxamer, aloe barbadensis leaf juice, disodium EDTA, sea salt
Enriched with aloe vera, H2Ocean's unscented liquid soap has no detectable odour. It isn't going to dry out or damage your precious tattoo. It's also gentle enough for use twice or thrice daily to keep your skin clean and promote faster tattoo healing. Some users say it's so light that you don't even need to rinse it off (it's also antibacterial). But you may not be comfortable with this especially if your tattoo is still weeping.
What I like:
Economical since you only need a small amount
No need to rinse so you're saving water as well
Very mild, unscented formula
Great for use on sensitive skin!
What I don't like:
Instructions are confusing according to some users, especially regarding the rinsing part.

---
Best Tattoo Soap for Dry Skin – Unscented Dove Soap for Sensitive Skin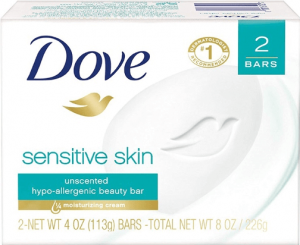 Ingredients: Sodium lauryl isethionate, stearic acid, sodium tallowate or sodium palmitate, lauric acid, sodium isethionate, water, sodium stearate, cocamidopropyl betaine, sodium cocoate or sodium palm kernelate, sodium chloride, tetrasodium edta, tetrasodium etidronate, maltol, titanium dioxide (ci 77891).
One of the best things about Dove's beauty soaps is that they're widely available. It's a popular brand that's clinically proven to moisturise skin. So, if you've dry skin, you don't need to worry because Dove won't dry you out. However, be careful when picking up Dove at the supermarket. Dove has many different soap varieties and they all look alike, to be honest. Make sure you pick the Unscented bar and avoid the Exfoliating variety like the plague!
What I like:
Perfect for dry skin
Widely available at most supermarkets and beauty stores
Extremely affordable
What I don't like:
So many varieties available – make sure you choose the right unscented, non-exfoliating soap

---
Best Tattoo Soap for Sensitive Skin – Neutrogena Transparent Facial Soap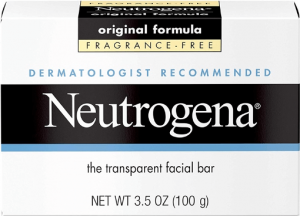 Ingredients: Triethanolamine, TEA stearate, sodium tallowate, glycerin, sodium cocoate, water, sodium ricinoleate, sodium oleate, cocamide MEA, disodium cocoamphodiacetate, fragrance, sodium stearate, BHT, tocopheryl acetate, tetrasodium etidronate, trisodium HEDTA, sodium metabisulfite
It sucks having sensitive skin. You can't use just about any regular soap. Fortunately, Neutrogena's transparent soap is made especially for sensitive skin. Their facial bar has a couple of variations, make sure you choose the fragrance-free one. It is hypoallergenic and has none of the usual irritants – fragrances, dyes, hardeners, and detergents. I know it says 'facial soap,' but you're more than welcome to use it all over your body. Glycerine will moisturise your skin from the inside out, and won't leave any residue on your pores (yes, it is non-comedogenic).
What I like:
Premium quality soap sold at affordable prices, especially if bought in bulk
Non-comedogenic and leaves no residue on skin
The fragrance-free version is perfect for those with sensitive skin
What I don't like:
A bit difficult to find in stores, fortunately it's on Amazon

---
Best Tattoo Soap for Oily Skin – Cetaphil Oily Skin Cleanser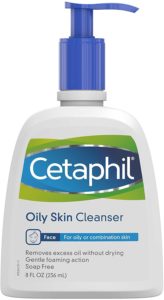 Ingredients: Purified water, Purified Water, Peg-200 Hydrogenated Glyceryl Palmate (And) Peg-7 Glyceryl Cocoate, Sodium Lauryl Sarcosinate, Acrylates/Steareth-20 Methacrylate Copolymer, Glycerin, Sodium Laureth Sulfate, Butylene Glycol, Phenoxyethanol, Parfum (Masking Fragrance/Fragrance Masquante), Panthenol, Peg-60 Hydrogenated Castor Oil, Disodium EDTA, Methylparaben
Oily skin needs to be handled differently from other skin types. If you don't want your tattoo ink to expand or leak out, a gentle cleanser that removes excess oil – but not irritate or dehydrate the skin – is important. Cetaphil's formula is oil-free, soap-free, and non-comedogenic. It will remove the gunk from your unhealed tattoo and leave your skin feeling clean and soft.
What I like:
Gentle enough to remove excess oil on skin
Perfect for people prone to acne breakouts due to oily skin
Won't draw out tattoo ink
Non-comedogenic and leaves no residue
What I don't like:
Not paraben-free but Cetaphil does say they only use small amounts to inhibit bacterial growth and that this product is compliant with EU safety regulations for cosmetic products

---
Best Hand Soap for Tattoos – Dial Gold Hand Soap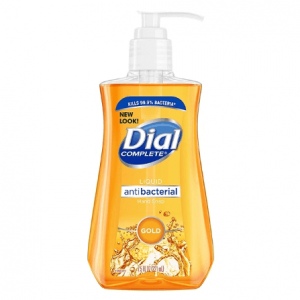 Active Ingredient: Benzalkonium chloride 0.13%
Inactive Ingredients: Aqua (water, eau), lauramidopropylamine oxide, glycerin, lauramine oxide, cetrimonium chloride, sodium chloride, PEG-120 methyl glucose, dioleate, citric acid, sodium benzoate, zinc sulfate, myristamidopropylamine oxide, parfum (fragrance), dimethyl lauramine, tetrasodium EDTA, alcohol, dimethyl myristamine, CI 19140 (yellow 5), CI 14700 (red 4), butylphenyl methylpropianol, coumarin, linalool
You don't need to splurge on tattoo soap. This Dial Gold hand soap is, for all intents and purposes, made for cleaning hands. However, its gentle formula and moisturiser combo made it a crowd favourite. You'll hear many tattooists recommend this soap – it's cheap, it's readily available, and it cleans brand-new tattoos without any issues. Oh, and it's clinically proven to kill 99.9% of germs, which is great news for unhealed tattoos.
What I like:
Liquid soap is very convenient
Very economical
Highly effective against germs and bacteria
Moisturises and doesn't dry out skin
Gentle enough for frequent use
What I don't like:
Fragrance isn't too pleasing

---
Best Baby Soap for Tattoos – Aveeno Baby Daily Care Gentle Wash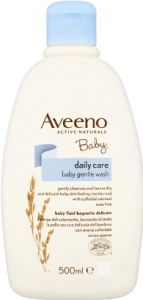 Ingredients: Aqua, coco-glucoside, cocamidopropyl betaine, avena sativa kernel flour, avena sativa kernel extract, glycerin, glyceryl oleate, hydrogenated palm glycerides citrate, p-anisic acid, acrylates/c10-30 alkyl acrylate crosspolymer, sodium chloride, citric acid, sodium hydroxide, tocopherol, phenoxyethanol, sodium benzoate, parfum
Your new tattoo is your new baby, isn't it? So, you might as well treat it like one by using a product that's gentle enough for baby's skin. Aveeno's products are perfect for sensitive skin, and this colloidal oatmeal wash is developed especially for newborn skin. It's formulated to reduce the risk of allergies, and will clean your tattoo gently and moisturise it as well.
What I like:
Very affordable and widely available
Paediatrician tested, so you know it's great for baby's skin
Cleans and moisturises tattooed area gently
No dyes, parabens or alcohol
Suitable for people prone to eczema
What I don't like:
May be too gentle for some tattoos, especially big ones

---
Best Tattoo Green Soap – MTS Antibacterial Green Soap

Green soaps are a staple in a tattoo studio. It's what tattooists normally use to wipe down their equipment and clean their client's skin before, during, and after a tattoo session. It works great at breaking down the blood and plasma on skin. Others may prefer using more conventional soaps for tattoo healing, but if you're not allergic to any of the ingredients, green soap will clean your tattoo just fine.
What I like:
Enriched with aloe vera so it's gentle on skin
Suitable for vegans
Antimicrobial and antibacterial soap perfect for both tattoo and studio cleaning
Excellent value for money
What I don't like:
No list of ingredients provided, but MTS is a reputable brand amongst UK tattooists and so far I see no complaints

---
Tattoo Cleaning Guide
Washing your brand-new tattoo will be a bit scary at first, especially if it's your first time getting one. Getting tattooed is a painful process to begin with, and washing it a few hours later can be painful, too. Tattoo aftercare instructions vary from tattooist to tattooist, but here's a general cleaning guide to minimise irritation:
Step 1. Remove the protective cling film or bandage that your tattooist put on your tattoo. Dried or sticky blood and plasma will stick to the film and your skin.
Step 2. Use lukewarm or hot water to wash off the gunk on your skin.
Step 3. Grab your favourite soap or washing gel, and rub it gently on the tattooed area until its completely clean.
Step 4. Pat (don't rub) the area with clean sheets of kitchen roll. I recommend not using towels (even clean ones) as the dried biological matter may be a hassle to clean up later.
Step 5. Apply a thin layer of ointment like Aquaphor or A+D ointment to protect the tattoo and let the healing process begin. Alternatively, you can also choose to dry heal your tattoo and forego the use of ointments and lotions altogether.
Repeat steps 1-5 a couple of times a day until your tattoo finally stops oozing plasma. At this point, you can now start using your favourite moisturising lotion to hydrate the skin as you enter the final stage of the tattoo healing process.
And here's a bonus infographic summarising the rest of the tattoo aftercare steps you need to follow to ensure your new tatt heals properly:

And the best tattoo soap is…
Honestly, there's no single best soap. We all have different skin types, and your choice of soap will depend on your skin. The best tattoo soaps are those that will help your tattoo heal faster. It shouldn't irritate your skin, or worse, cause a tattoo infection! Always read the label before you buy the soap – or any aftercare product, for that matter – and make sure you're not sensitive to any ingredient.