So, you've got a brand-new tattoo on your skin. Whether it's a big one or a super tiny one, I bet you're proud of it! But you probably have this nagging question at the back of your head: can you put lotion on a new tattoo?
Well, read on to find out the definitive answer. I'll also go through the different kinds of lotions that are safe to use on a new tattoo, as well as our recommended products for each category. Let's begin!
So, can you put lotion on a new tattoo?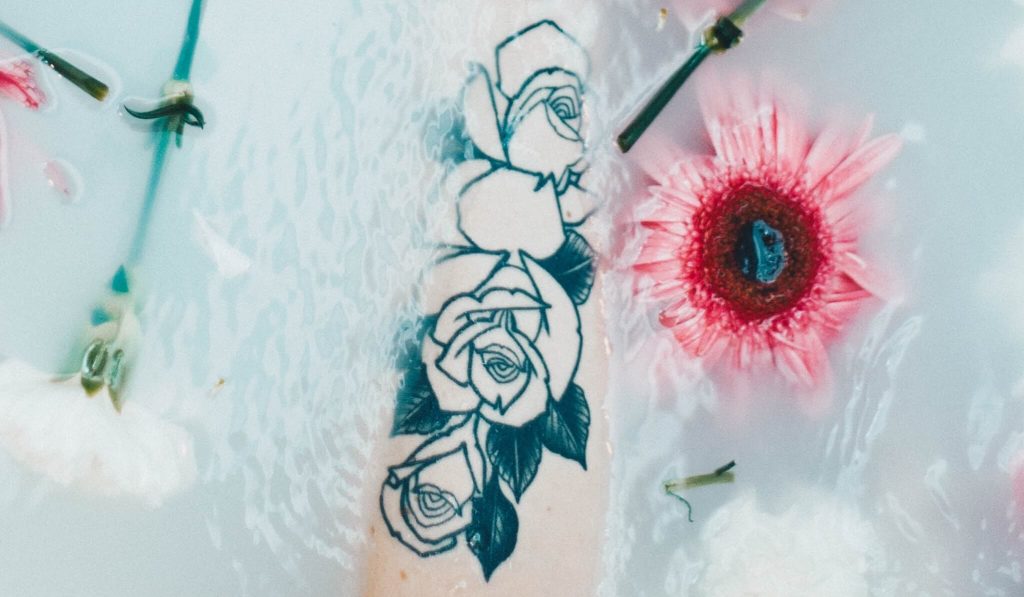 Let me break the answer down for you:
If you're wondering if you can put lotion on a fresh tattoo, the answer is no. By fresh, I'm referring to the icky-and-gooey kind of fresh, which is what your tattoo is right after you leave the studio.
If you're referring to tattoo that's at least 2-3 days old, and is now starting to heal and dry up, then the answer is a resounding yes! At this point, your tattoo is still considered 'new.'
What to put on a brand-new and fresh tattoo?
For ultra-fresh tattoos, you need to wash it first with lukewarm or hot water (if you promise not to cry out from pain). Seriously, just wash the 'wound' (no two ways about it – a tattoo IS an open wound) to remove all the blood and plasma that's congealed on the surface.
The combination of warm water and your unscented, antibacterial soap will break down the gooey mess. It will clean the skin surface temporarily, but the fluids will come back later as your body's immune system is trying its hardest to fight off infection.
Once the tattooed area is clean, apply a thin layer of ointment like Aquaphor or A+D's nappy ointment (but not Vaseline – more on this below). Repeat this process 2x or 3x a day, until your tattoo stops oozing or weeping.
What to put on new tattoo that's a few days old?
Once your tattoo's a few days old, it's time to move on to the next step of the aftercare process. At this point, you can pretty much stop using the ointment, and proceed to using creams, lotions or moisturisers as part of your aftercare routine.
I know skincare products are almost interchangeable and can be very confusing for a tattoo newbie. If so, you should check out my in-depth guide comparing the different types of tattoo aftercare products and when to use each one.
Once your tattoo's moved past beyond the initial healing stages, it's very important to moisturise it. You want to use an aftercare product that will be absorbed by your skin quickly. The right product will make your skin a lot softer and reduce the itchiness that comes with healing skin.
Now, dry healing tattoo is an option too, but honestly, this isn't for everyone. Some people who have tried dry healing swear by it. By all means, feel free to try it out yourself and see if it's something you'll be comfortable with. If not, wet or moist healing tattoo is always an option!
---
The 3 kinds of lotions you can use on new tattoos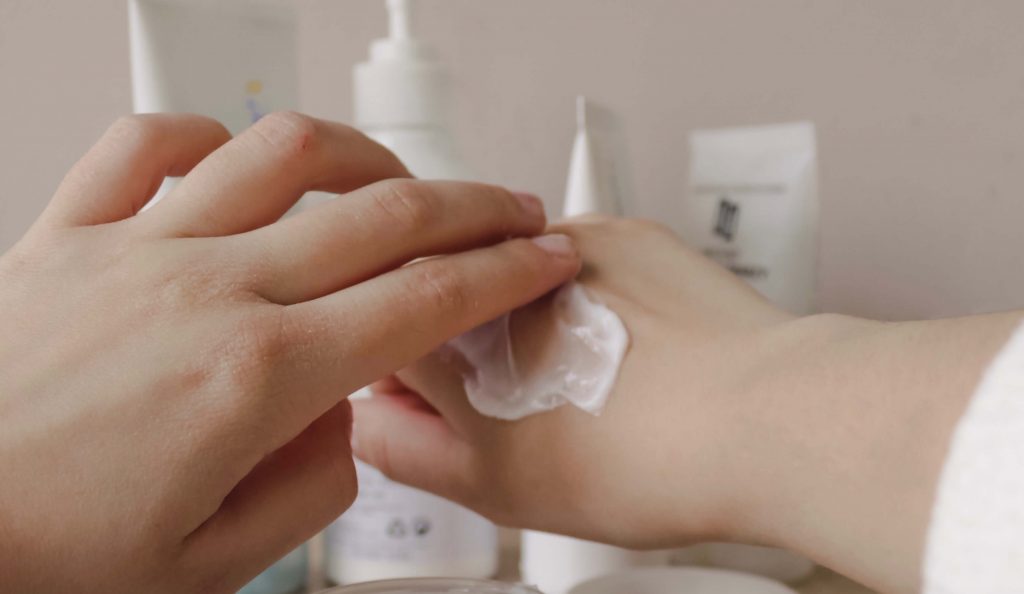 Lotions aren't just limited to what you see in the lotion's aisle at the supermarket. Oh no, not at all. There are several varieties like whitening lotion, tanning lotion, anti-wrinkle lotion, anti-ageing lotion, anti-stretch mark lotion, slimming lotion, and so much more!
Now, to save your time, I'll only talk about lotions that are relevant for use on your new (and even old) tattoo. Here they are:
(1) Specialised tattoo healing lotions
In many cases, regular lotions won't do your skin art any justice, but it's not surprising really. After all, these lotions aren't specifically made for tattoos. Specialised tattoo healing lotions, on the other hand, are formulated to heal, protect, and maintain your tattoo's vibrant looks.
Made-for-tattoo lotions contain ingredients that help speed up the healing process. These products are infused with vitamins and nutrients that go deep into the skin and revitalises it from within. Naturally, this leads to healthy skin which, in turn, makes your new tattoo even more stunning to look at!
So, in addition to all these special ingredients, what makes these lotions even more suited for new tattoos is that they usually do not contain common allergens and irritants. This includes petrolatum, harsh chemicals and fragrances.
Lastly, these special lotions are absorbed rather quickly into the skin. It minimises the itch and irritation that comes with a healing tattoo. So, if you feel like you're about to have a serious bout of itching, rub some special lotion on the tender area, and you should feel some relief after a few minutes.
We recommend the following specialised tattoo healing lotions:
Butter Up Tattoo Aftercare
After Inked Tattoo Lotion
Tattoo Goo Aftercare Lotion
* Made with coconut oil, cocoa butter, avocado oil
* Rich in antioxidants and vitamin E
* 100% vegan & organic
* Hypoallergenic
* Fragrance-free
* No artificial colours
* Made with grapeseed oil
* Contains vitamins E and C, and beta carotene
* Non-allergenic
* Non-irritating
* Fragrance-free
* Post-consumer recycled plastic tube
* Made with olive oil
* Contains vitamins A and B5
* Petroleum and lanolin free
* No zinc oxide and mineral oil
* Fragrance-free
* Non-greasy and absorbed quickly into skin
Buy Butter Up here
Get After Inked lotion here
Check Tattoo Goo lotion here
And our #1 pick for specialised tattoo healing lotion is…
All these special lotions are great, but I have to give the nod to After Inked. I've praised this product in my other posts because I truly love it – it works exactly as advertised. Don't get me wrong, Butter Up and Tattoo Goo are awesome, too. But when price and quality are considered, After Inked is the clear winner.
---
(2) Regular daily moisturising lotions
Special tattoo lotions are awesome and all, but when you compare the price to regular lotions you'll find at the supermarket, well, regular lotions win. Depending on the brand, a 500ml bottle of regular lotion can cost no more than 10 to 15 quid. That's about 3x to 5x cheaper than special tattoo lotions!
The truth is that many tattooists have no problem recommending regular moisturising lotion for tattoos that are a few days old (as long as it's no longer weeping). However, as I mentioned above, there's just far too many lotion varieties in the market, which makes it hard to choose the right one for yourself.
Alright, so for regular lotions, here's what you should look for:
Should be made with primarily natural ingredients (doesn't need to be organic though)
Should preferably be fragrance-free (at least until the tattoo fully heals)
Shouldn't contain harmful chemicals
No artificial colours
Shouldn't contain ingredients you're allergic to
That said, we recommend the following regular moisturising lotions:
Aveeno Daily Moisturising Lotion
Cetaphil Daily Moisturising Lotion
Lubriderm Daily Moisturising Lotion
* Key ingredients: Avena sativa (oat) kernel flour, petrolatum, isopropyl palmitate
* 24-hr moisturisation
* Fragrance-free
* Comedogenic so if you have sensitive skin, use Cetaphil instead
* Most affordable on this list
* Main ingredients: Hydrogenated polyisobutenem, persea gratissima (avocado) oil
* Lightweight consistency
* 24-hr moisturisation
* Fragrance-free
* Non-comedogenic so it won't clog your skin pores
* Key ingredients: mineral oil, caprylic/capric triglyceride
* Enriched with vitamin B5
* 24-hr moisturisation
* Lanolin-free
* Fragrance-free
* More expensive than Aveeno and Cetaphil
Buy Aveeno lotion here
Get Cetaphil lotion here
Check Lubriderm lotion here
And our #1 pick for regular daily moisturising lotion is…
We're going to go with Cetaphil Daily Moisturising Lotion on this one. All 3 brands promise 24-hour moisturisation and are fragrance-free. However, I like Cetaphil's higher-quality ingredients. It's a bit slower to absorb into the skin, but when it does, it will actually moisturise the skin for far longer. Also, the non-comedogenic label is always a plus in my book, because clogged pores and ugly bumps are the last thing you want in a healing tattoo!
---
(3) Baby lotion
Baby lotions are formulated especially for – you guessed it – baby's sensitive skin. But just because it's labelled as baby lotion, it doesn't mean that adults can't have fun with it as well! Now, let me just make this clear, not all baby lotions automatically qualify for tattoo aftercare use. You still need to make sure it has none of the usual suspects – irritants and allergens – that can adversely affect your healing tattoo.
You might want to consider these baby lotions for your new tattoo:
Johnson's Baby Lotion
Dove Sensitive Baby Lotion
Aveeno Baby Daily Moisture Lotion
* Moisturises for up to 24 hours
* Hypoallergenic
* No dyes, parabens, sulphates, and phthalates
* Very affordable
* With coconut oil
* Non-greasy and absorbs quickly into the skin
* No dyes, parabens or phthalates
* Gentle, hypoallergenic formula
* Natural fragrance
* Natural, colloidal oatmeal
* Moisturises for up to 24 hours
* Hypoallergenic
* No dyes, parabens or phthalates
* Fragrance-free
Buy Johnson's lotion here
Get Dove Baby lotion here
Check Aveeno lotion here
And our #1 pick for baby lotion is…
I have to say Aveeno's been a paediatrician and dermatologist-recommended brand for a long time. And that reason is enough to give Aveeno an edge in this category.
That said, I like the fact that Aveeno's moisturising power lasts up to 24 hours. And since it's a for-baby formula, it's even more gentle than the for-grownups variation. So, if you're looking for an affordable baby lotion for your tattoo, Aveeno Baby Daily Moisture Lotion is your friend.
---
Special non-lotion products you can also use on new tattoos
Lotions aren't the only aftercare product you can use once your tattoos are out of the danger zone, a.k.a. that infection-prone stage when your needle wounds are still oozing blood and plasma. Here are our favourite non-lotion products you can use on your tattoos:
Coconut King Aftercare Balm – you can read our review here
Hustle Butter Deluxe – you can read our review here
Butter Up Tattoo Aftercare – you can read our review here
Sevenhills Extra Virgin Coconut Oil – click here to buy on Amazon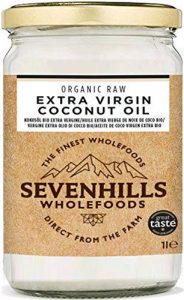 Coconuts have been around forever! And long before lotions were formulated, our ancestors have been using coconut oil to moisturise their skins. It's got all the goods for healthy, happy skin – essential fatty acids, vitamin E, antioxidants, antimicrobial, and antifungal properties.
Some tattooists, however, suggest using coconut oil only after the tattoo has fully healed. This is because coconut oil has known 'pulling' properties that remove toxins from the body. And when used prematurely, that is, your tattoo's not healed fully yet, you might see ink getting pulled out from the dermis layer. 
Here's an infographic showing the benefits of coconut oil on tattoos: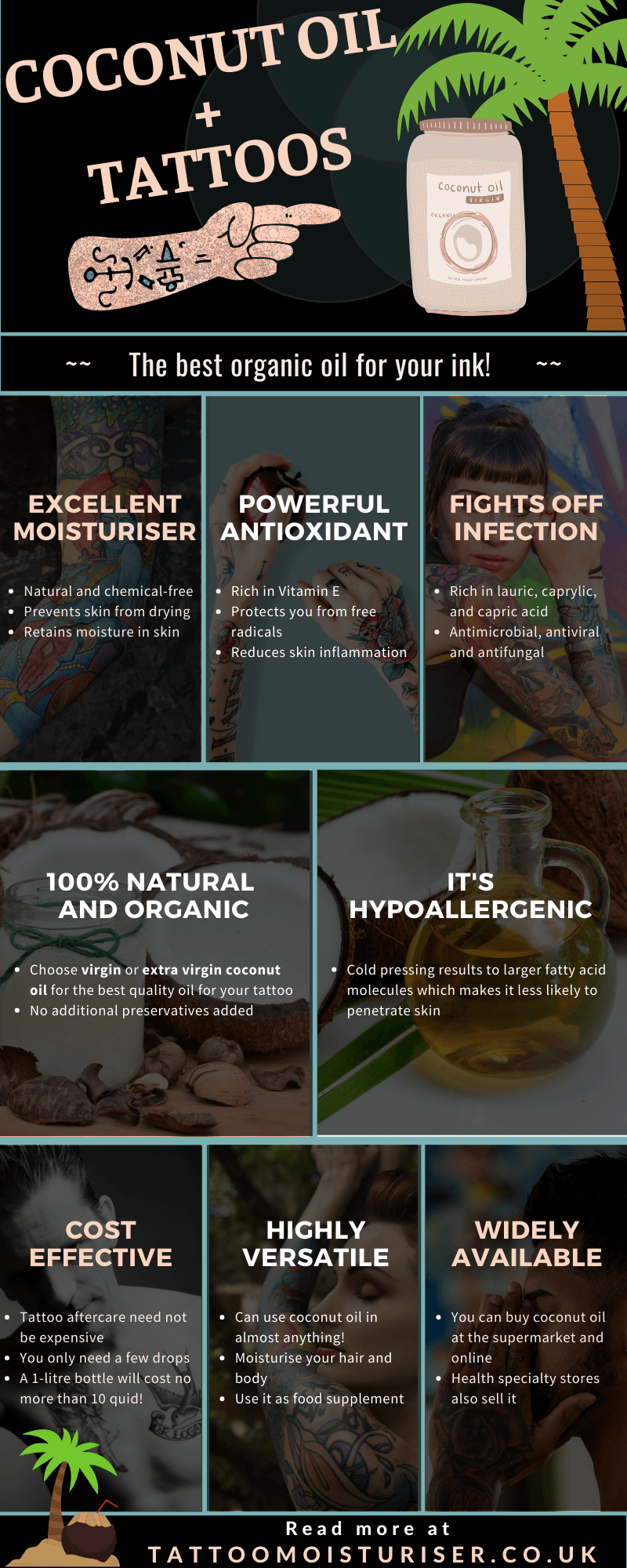 What NOT to put on a new tattoo?
For unhealed tattoos, you need to let it 'breathe' as much as possible. This is why petroleum jelly (like Vaseline) is a big no-no on new tattoos.
Don't get me wrong, petroleum jelly is useful in a lot of things and can even heal minor burns and wounds. However, your tattoo is more than just a minor wound. It's an open, oozing wound thanks to the thousands of needle stabs your skin received.
Even if you apply a very thin layer, it's still not a good idea to do so. This is because Vaseline is highly occlusive and will totally block out oxygen from entering your skin, which leads to delayed healing, and worse, infections.
Can you put lotion on an old tattoo?
Absolutely! In fact, even without tattoos, dermatologists will advise you to moisturise and hydrate your skin. With tattoos on, moisturising becomes even more of a necessity! Remember, your tattoo is on your skin and it can only look as good as the skin it's on.
As for what kind of lotion to use on old tattoos, any kind will do. Really. So, it can be your favourite special tattoo lotion, or your regular moisturising lotion, or even baby lotion. Or, if scented lotions are your thing, go for it! It's not advisable to put scented lotion on a new tattoo, but once it's healed up, you're pretty much free to use any lotion you like!
Conclusion
You've probably heard it said, getting a tattoo is a lifelong commitment. Once you get inked, you need to start taking good care of your skin. Otherwise, your tattoo is going to suffer after a while. That said, I hope this article helped answer your question 'can you put lotion on a new tattoo.' Better start buying your favourite aftercare lotion – you'd hate to run out and let your skin – and your tattoo – dry out in the process!