Your tattoo is permanent… well, kind of. It's permanent in the sense that it's going to stay on your skin for the rest of your life. But it's definitely not permanent in terms of its appearance. Your tattoo may look awesome now, but in a few months or years, not so much. But don't fret! With the help of aftercare lotions, ointments and creams, your precious skin art will look great for far longer than if you didn't use any at all!
Why Lotions, Ointments, and Creams Are Essential in Tattoo Aftercare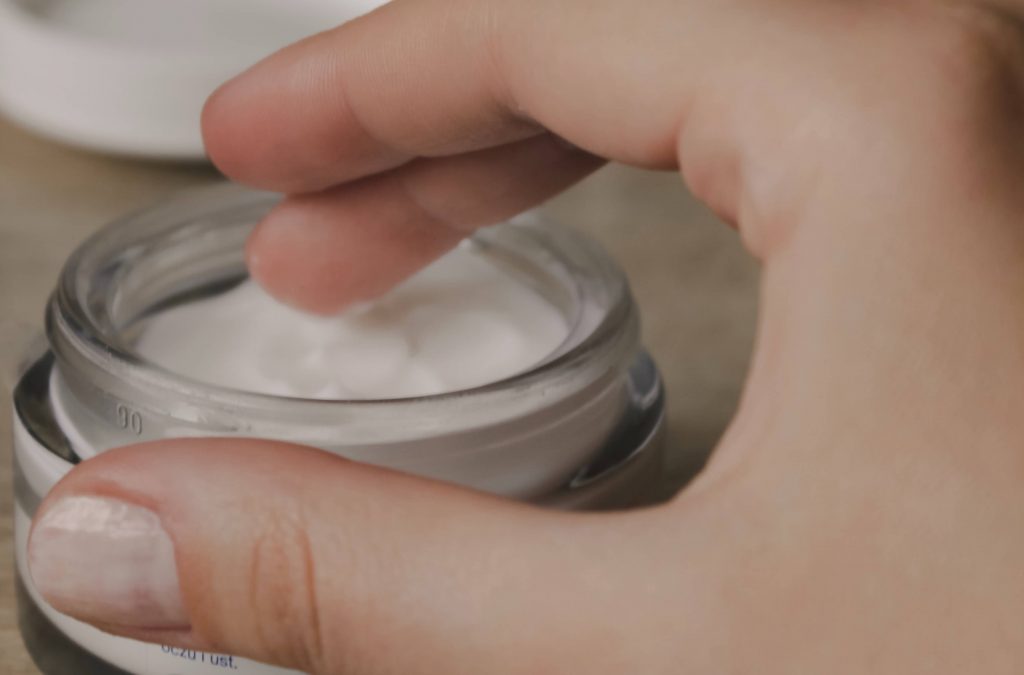 Before I explain why all these products are necessary in aftercare, let me give you a quick background on how the human skin (and tattoos) work:
Like clockwork, our skin nourishes and regenerates on its own. Old skin cells shed and exfoliate constantly, and new ones rise to the top to replace their fallen comrades. Now, all this replacing of skin cells happens on the outermost layer of skin called the epidermis. Since tattoo ink is inserted in the dermis layer, nothing happens to it (this is why tattoos are permanent).
So, how is this relevant to aftercare lotions, ointments, and creams?
Well, when you get yourself a tattoo, your skin needs help repairing itself. It will heal on its own eventually, but since freshly inked skin is pretty much an open wound, it needs all the help it can get. Otherwise, it's bound to get infected. This is where these skincare products come in – they're designed to repair, protect and moisturise your skin, and of course, your tattoo.
There are tons of aftercare products to choose from. But they all have one thing in common – they all aim to make skin look better. And the better your skin looks, the better your tattoo looks as well.
The Different Types of Tattoo Aftercare Products (And When To Use It)
Let's face it: the world of aftercare products is complex and confusing. There are far too many brands trying to get a piece of the $3 billion tattoo industry pie. If you're trying to navigate the aftercare world on your own, be prepared to get lost in the rabbit hole for hours! Hopefully, this guide will cut your research time in half.
Quick note: I've purposely excluded tattoo soaps in this article. Even though soap is essential in cleaning out freshly done tattoos during the first week or so, it's distinctly different from all the other aftercare products like lotions, ointments, creams, and so on. If you want to know more about aftercare soaps and the cleaning stage of tattoo healing, click here.
Summary Table
Aftercare product type
What is it?
When to use it?
Overall best product
Moisturiser
* More oil, less water
* Thicker than lotion
After tattoo has healed
After Inked Tattoo Lotion
Lotion
* More water, less oil
* Spreads more easily than moisturiser
After tattoo has healed
Aveeno Daily Moisturising Body Lotion
Ointment
* More oil, less water
* Thicker than moisturiser
During initial healing stages
A+D Ointment
Cream
* More or less equal parts water and oil
* About the same viscosity as moisturiser
After tattoo has healed
Butter Up Tattoo Aftercare
Balm
* Thickest consistency, almost completely solid
Can be used during initial healing stages, but also afterwards
Coconut King Aftercare Balm
---
(1) Moisturisers
What is it?
To the untrained eye, moisturisers look and feel just like lotions, albeit a bit thicker in texture and consistency. It's more oil-based than water-based, which means it has a slower absorption rate than most lotions. However, the upside is that the oil helps to seal in the moisture far longer than regular lotion would.
When to use it?
When you feel like your skin's starting to dry out, it means it's time to apply a fresh, new coating of your favourite tattoo healing moisturiser. It's also great for helping get rid of the itchiness that comes with a healing tattoo.
Overall Best Moisturiser For New And Old Tattoos – After Inked Tattoo Aftercare Lotion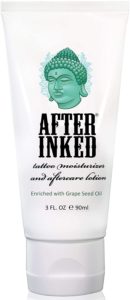 Ingredients: purified water, grapeseed oil, vegetable glycerin, stearic acid, shea butter, synthetic beeswax, jojoba seed oil, vegetable cetyl alcohol, orange oil, benzyl alcohol and dehydroacetic acid
We love, love, LOVE After Inked Tatto Aftercare Lotion! We've tested a lot of products and this one's at the top of our list. This has been in the market for a few years, so there's a lot of feedback from actual users all over the UK (and beyond).
My colleagues are pretty picky when it comes to stuff like this. Tattoos are precious works of art, you know. We previously liked Hustle Butter, but ever since we've tried out After Inked, we've put aside our jars of Hustle Butter and switched to this brand.
That said, After Inked is an excellent tattoo healing moisturiser. Its base ingredient is grapeseed oil which means it's easily absorbed by the skin. You also get the benefit of faster skin healing and protection from free radicals. Oh, and it's also priced very fairly which is always a plus in my book!
Best Fragrance-Free Moisturiser For Tattoos – Cetaphil Fragrance Free Moisturising Lotion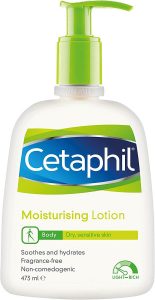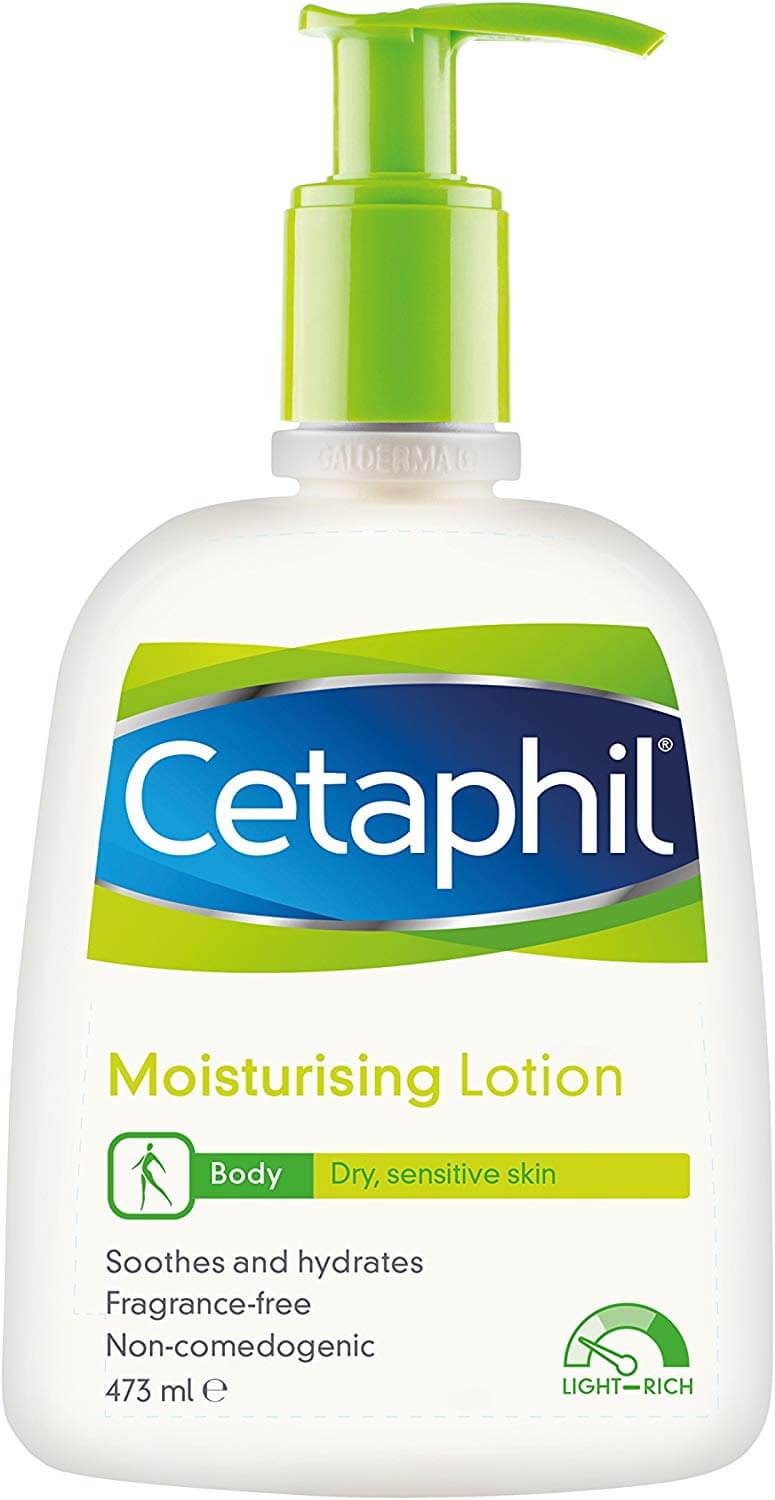 Ingredients: Water, Glycerin, Hydrogenated Polyisobutene, Ceteareth-20, Cetearyl Alcohol, Persea Gratissima (Avocado) Oil, Tocopheryl Acetate (Vitamin E), Dimethicone, Sodium Levulinate, Sodium Anisate,Caprylyl Glycol, Benzyl Alcohol, Panthenol (Vitamin B5), Stearoxytrimethylsilane, Stearyl Alcohol, Citric Acid, Acrylates/C10-30 Alkyl Acrylate Crosspolymer
This Cetaphil product is primarily a lotion in terms of texture and consistency. But with 6 moisturising ingredients, this is also an effective moisturiser. It's also infused with vitamins E and B5 which makes your skin smooth, soft and nourished for a full 24 hours. Oh, and we love the fact that it's fragrance-free, which is great for people allergic to fragrances.
---
(2) Lotions
What is it?
Tattoo lotions have a much higher water content than moisturisers. Because of this, lotions are typically light and non-greasy and are therefore easier to spread out over a larger surface. Since it's not as thick as moisturisers, you can quickly apply lotion to your entire body. It's also a cost-effective aftercare product since lotions are generally much cheaper than moisturisers.
When to use it?
You can use aftercare lotion as soon as your tattoo stops 'weeping.' This means the tiny needle holes are starting to close up, so it won't sting after application. You can also continue using it long after your tattoo has healed.
Overall Best Unscented Lotion To Use On New Tattoo – Aveeno Daily Moisturising Body Lotion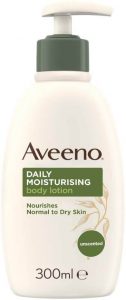 Ingredients: [FPT-0574], aqua, glycerin, distearyldimonium chloride, isopropyl palmitate, paraffinum liquidum, cetyl alcohol, dimethicone, avena sativa (oat), kernel flour, paraffin, cera microcristallina, stearyl alcohol, myristyl alcohol, benzyl alcohol, sodium chloride
I don't know about you, but I personally love oats. Thanks to Aveeno, oats aren't just limited to breakfast. Now, I can slather it on my skin because Aveeno's Daily Moisturising Body Lotion is formulated with prebiotic colloidal oat.
Apply Aveeno lotion on your tattoo or your entire body, and 24 hours later, your skin will still feel soft and supple. This moisturising and healing lotion restores the skin's natural barrier function. This means less moisture escapes the skin and evaporates. With daily use, it promises to improve dry skin within 2 weeks!

Best Lotion For Old Tattoos – Lubriderm Daily Moisture Lotion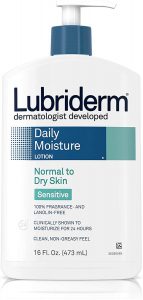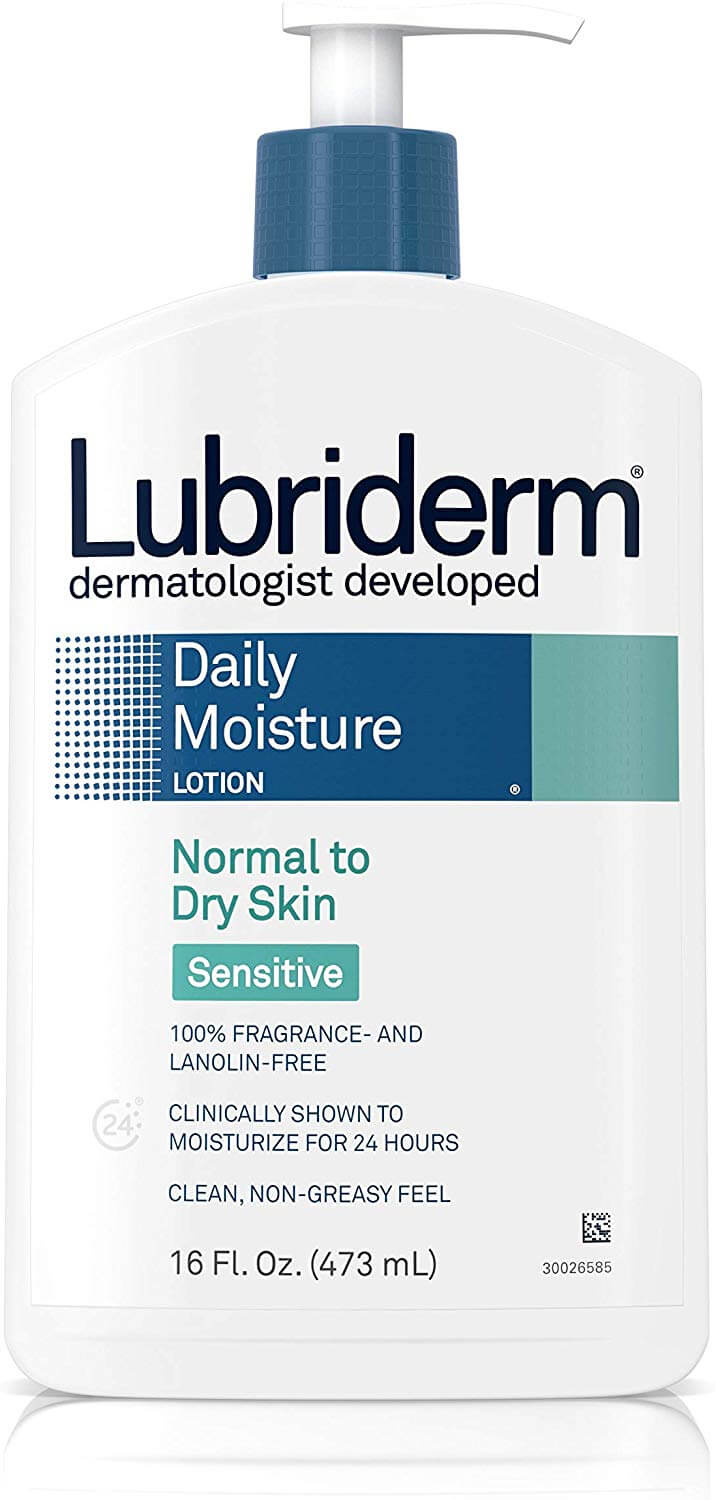 Ingredients: water, mineral oil, glycerin, caprylic/capric triglyceride, stearic acid, cetyl alcohol, cetearyl alchol, dimethicone, petrolatum, ethylhexylglycerin, carbomer, ceteareth-20, dmdh hydantoin, sodium hydroxide, sodium citrate, panthenol, citric acid, titanium dioxide
Lubriderm is another popular skincare brand. Their line of lotions is pretty much in the same category as Aveeno and Cetaphil in that they are affordable and widely available. Lubriderm, however, is just a tad more expensive by a few quid, but it's nothing to write home about.
That said, this lotion is great for moisturising already healed tattoos thanks to its vitamin B5-infused formula. It is also fragrance-free, non-greasy, and has a 24-hour moisturising power just like Aveeno's and Cetaphil's line of lotions.

---
---
(3) Ointments
What is it?
Ointments are formulated with higher oil content (like petrolatum and mineral oil). It has a much thicker consistency than moisturisers, which means it's absorbed slowly into the skin. With more oil in the formula, it's greasy to the touch, but the upside is it does a great job of retaining moisture in the skin. It also acts as a barrier and skin protectant to prevent skin infections.
When to use it?
Because of its skin barrier function, ointments are great for use on fresh tattoos. Since needle holes are still pretty much open at this point, the ointment will temporarily 'close' the broken skin to prevent harmful pathogens from entering.
Just a word of caution though, your skin needs oxygen to heal. Since ointments act as skin barrier, they can also block out oxygen. It is therefore important to only apply a very thin layer of ointment, so it doesn't clog up your pores and delay the tattoo healing process.
Best Ointment For Tattoo Healing – A+D Ointment & Skin Protectant
Ingredients: Petrolatum (53.4%), lanolin (15.5%), cod liver oil (contains vitamins a & d), light mineral oil, fragrance, microcrystalline wax, paraffin
A+D barely edged out Aquaphor for the crown in this category. Price and quality-wise, these two ointments are neck and neck. However, A+D won by virtue of its vitamin A and D infused formula, courtesy of cod liver oil (see ingredients list). Lanolin also works to keep the skin soft while petrolatum shields the wound from harmful germs and bacteria.

---
(4) Creams
What is it?
Creams are more or less equal parts water and oil. In terms of viscosity, creams are most similar to moisturisers – thicker than lotion but not quite as thick as ointments. Because of its nature, creams are easy to spread all over the tattooed area (great for full sleeve tattoos). It doesn't do well as a skin barrier or protectant, but since it's absorbed more quickly, it does a great job moisturising the skin.
When to use it?
It's best to use aftercare creams once the tattoo has stopped 'weeping.' This could be a few days up to a week after getting tattooed. Since it's absorbed more quickly (thanks to its water content), it doubles as an effective moisturiser, too.
Best Cream For New Tattoo – Butter Up Tattoo Aftercare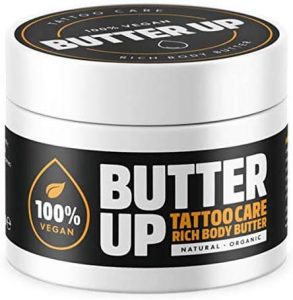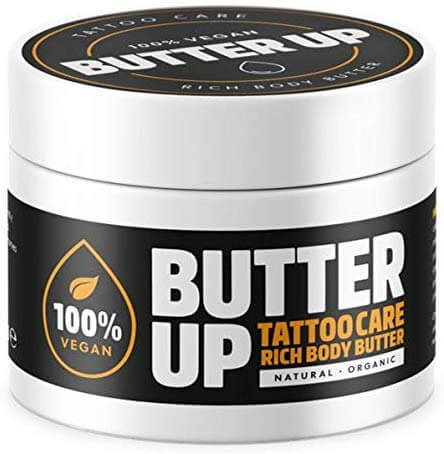 Ingredients: Aqua, cocoa butter, avocado oil, sunflower seed oil, cetearyl alcohol, polysorbate 60, olive oil, coconut oil, palm kernel oil, stearic acid, xanthan gum, phenoxyethanol, ethylhexylglycerin, parfum
Ordinarily, creams aren't as good as ointments in the initial healing stages of a new tattoo. However, Butter Up's formulated in such a way that it works even for freshly done tattoos! It's anti-inflammatory and is enriched with antioxidants and vitamin E to aid with the skin's healing process.
This is a great alternative to Aquaphor and A+D ointments since both of these products are petroleum-based. So, if you want a more natural (not to mention, vegan and cruelty-free) product, then this is the right cream for your new tattoo!

Best Tattoo Maintenance Cream For Old Tattoos – H2Ocean Skin Moisturising Cream

Ingredients: Purified water, stearic acid (coconut), glyceryl stearate, peg 100 stearate, c12-15 alkyl benzoate, caprylic/capric triglyceride, glycerin (vegetable), dimethicone (silica), jojoba oil, microcrystalline cellulose, rose hip seed oil, peg 8 stearate, cety alcohol, aloe vera gel, triethanolamine, tocopheryl acetate, allantoin, methylparaben, propylparaben, sclerotium gum, sea salt
I really like H2Ocean's tattoo aftercare cream because it's water-based and is petroleum-free, so it's not going to clog up your pores if you use it daily. You can start using it a few days after getting your tattoo, but you can also use it long-term (for old tattoos).
The only downside is it's quite expensive, so if you don't have deep pockets, I recommend you check out After Inked Aftercare Lotion instead. It's a moisturiser, yes, but it's also got a creamy consistency, and After Inked will give you better value for your money.

---
(5) Balms
What is it?
If you think ointments are thick, wait until you get your hands on a balm. Tattoo balms are usually formulated with either oil or beeswax at its base, and is therefore solid to the touch. Also contributing to its solid state is the fact that it has very little to no water in its formula. Most balms sold in the market are packed densely in a jar (a common container for balms).
When to use it?
Balms make great skin protectants, but whether or not it lets your skin breathe depends on the kind of base used. If it's petroleum-based, then it won't let oxygen in. However, if it uses a more natural base like beeswax and coconut oil, then it will keep out the irritants BUT will let oxygen in.
Best Organic Tattoo Balm – Coconut King Aftercare Balm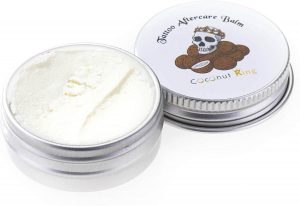 Ingredients: Coconut oil, shea butter, mango butter, cocoa butter
This is an excellent product that has received raving reviews from those who've tried it. Just like Butter Up, this balm is also made from coconut oil. Its thick consistency leads to a sped-up tattoo healing process. This balm is perfect for use during the initial stages of the healing process since it's quickly absorbed by the skin.

Final Words
The best tattoo aftercare moisturisers, balms, lotions, ointments, and creams are those that are effective for you. Choosing the wrong product can cause all sorts of complications for your tattoo, your skin, and even your health. You know your skin (and your irritants) best, so please do your due diligence before you purchase your aftercare products.